West Chester Sondra Moore BBYO #5206

---
BBYO stands for the B'nai B'rith Youth Organization. BBYO helps young Jewish people to achieve personal growth according to their individual capacities so that they may lead personally satisfying and socially useful lives in the Jewish Community and the larger community of which they are a part.

West Chester Sondra Moore BBYO #5206 is located in Pennsylvania. We are in Central Region East, a region encompassing all of Pennsylvania, exluding Pittsburgh and Philadelphia, and including all of Delaware.
This year, West Chester BBYO is the home of the two regional presidents, David Ari Hulnick and Aliza Paskow!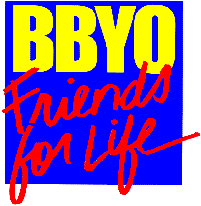 CONGRATULATIONS TO THE 1998-1999 BOARD
---
---


Click here to go to some cool BBYO Links
Click here to fill out a membership form

You are visitor number
as of 4/1/97
This Page is always under construction. Last Updated: 05/18/98
---
This document was created by
David Ari Hulnick- davidari@bee.net
THE BBYO WEB RING
Site owned by David Ari Hulnick